stuffed full. hand-dipped. delicious.
Chocolate covered pretzels that don't leave you craving more, except for more of our pretzels of course!
Shop now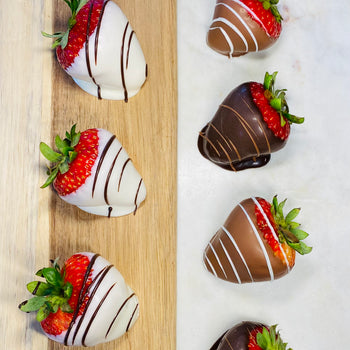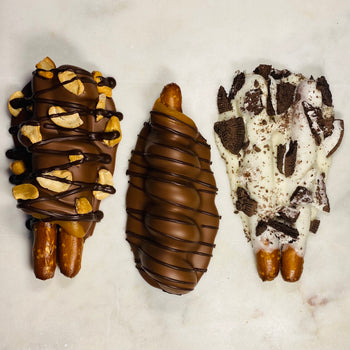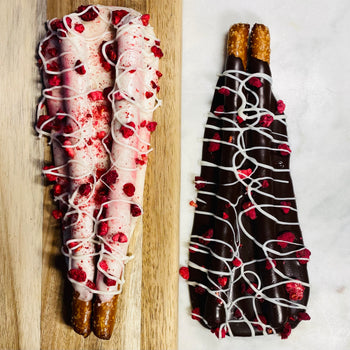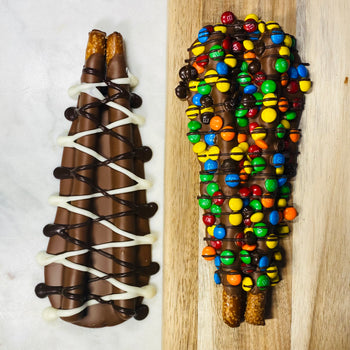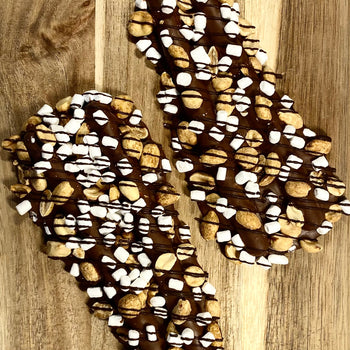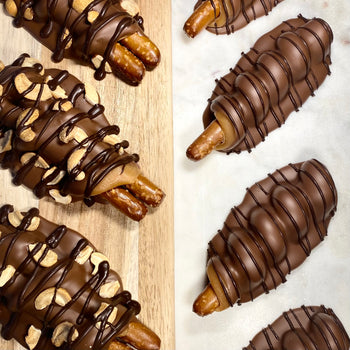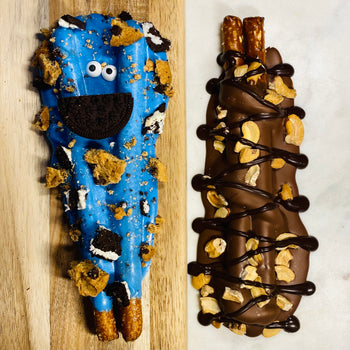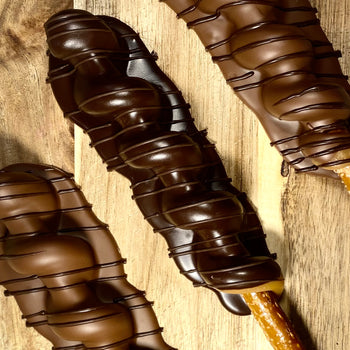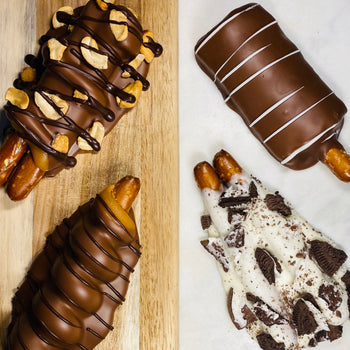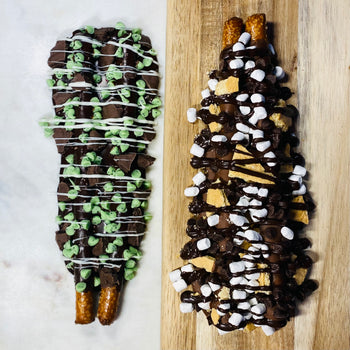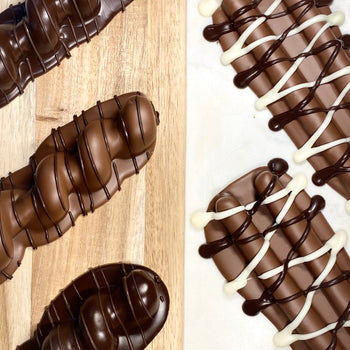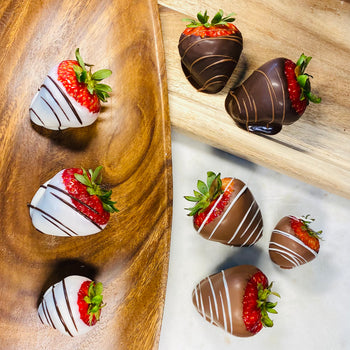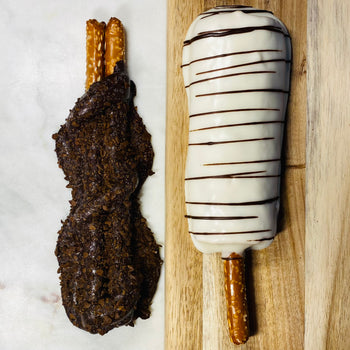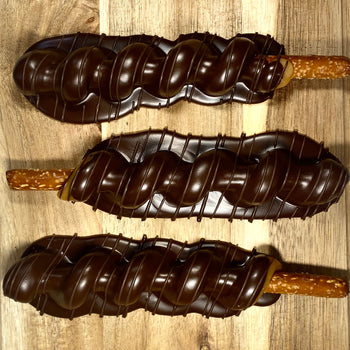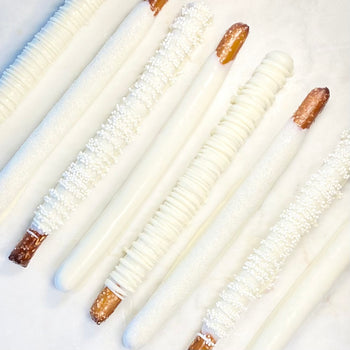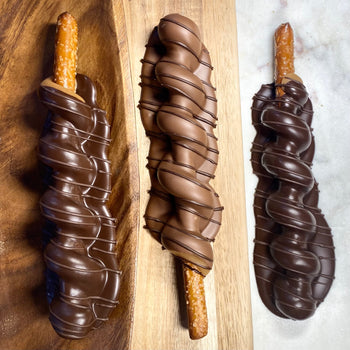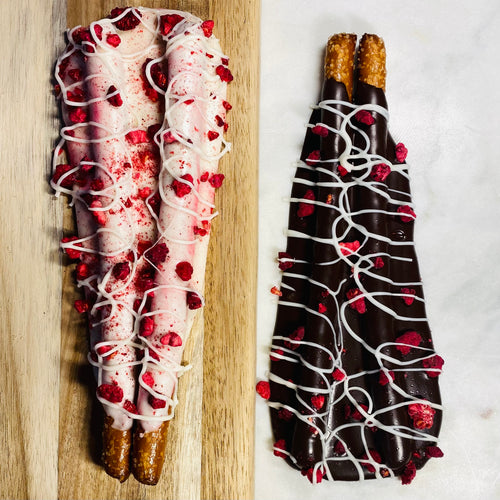 they're good!
Want to try specific flavors?
Shopping our singles is the way to go! And unlike your last relationship, our pretzels are a match made in heaven... between the creamy-smooth chocolate and salty-crunch pretzel... now that's a marriage of flavors!
Shop now
Guess what? Buying from us is helping our mission!
What is this mission you might ask? It is to help those who have been abused! That is why we work hard to do as much as we can for them, and you!
1

We start by sourcing our signature chocolate recipe ingredients through suppliers that stand against using child slaves, unlike 60% of chocolate distributed in America!

2

We are also working toward and helping to employ those coming out of abusive situations, with fair wages.

3

Last, but certainly not least, we donate 10% of our proceeds to our partnering organizations that help to rescue children out of sex trafficking in America, as well as others suffering from various forms of abuse all around the world!
Gluten

Free?

We got ya! Don't settle for less than scrumptious! Choose from our selection that says "no" to the gluten and "heck yeah" to all the chocolatey goodness!

Gluten free products made in the same factory as products containing gluten

Gluten Free Peanut Butter Delight

Vendor:

Sarah's Gourmet Pretzels

Gluten Free Peanut Butter Delight

Gluten Free Cashew Caramel Turtle

Vendor:

Sarah's Gourmet Pretzels

Gluten Free Cashew Caramel Turtle
here's what they're sayin'
"Once you have one of these chocolate covered pretzels, you'll realize that other ones are nothing compared to these."
"Your pretzels are the best!! So much chocolate!! It's hard to resist!"
"I really enjoy this salty, sweet, peanut buttery with a little crunch delicious treat! Completely satisfies my salty sweet craving. One of my all time favorite indulgences!!"
"I have tried each kind and they are amazing!"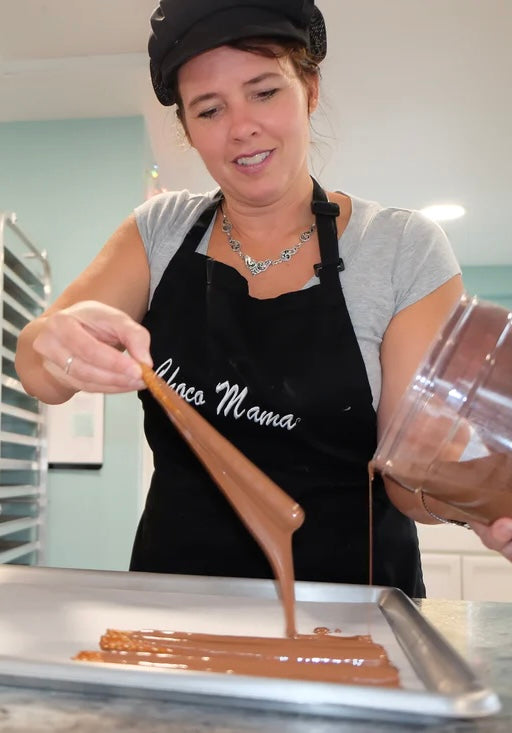 A blurb about us...
We are a family owned chocolate company that started off making pretzels in our dining room to raise money to adopt our youngest son, Marcus in 2012. After shutting down for a few years after bringing Marcus home, we soon learned that people wanted more of our pretzels and we had a new mission on our hearts! We reopened with a mission of pretzels with a purpose and have since then built a certified kitchen, and find ourselves in over a hundred stores in nine counties! We are so excited to see our vision come to life as God blesses us! 
And we are just as excited to get to join with you as you try our specialty chocolates - and at the same time are giving back to those who have been trafficked, enslaved, and mistreated here as well as all around the world!
All of our pretzels are personally created & hand-dipped in our pretzel kitchen in Dunlo, PA. We believe in quality ingredients, superior flavors, and aesthetic beauty. This is why we have created our own unique chocolate recipe - utilizing a signature blend of chocolates, giving a distinct flavor that continues to have our customers coming back for more. If for any reason you are not satisfied - please give us a call or email us and we will make it right - GUARANTEED!